Doc's Palm Treo 680 Photoreview
It''s the end of 2006 next week and we still haven't had a sniff of the new Treo 680 here in Malaysia. It looks like we will have to wait for 2007 before we get any units here. Anyway I had the chance to review a Palm Treo 680 last night courtesy of
YeahCH.com
. The unit is from
Singapore
where it is retailing for SGD788. It will probably retail here in Malaysia for about RM1988, but it is not confirmed yet. Palm Malaysia has been keeping mum on the Treo 680. In fact it is not even listed on it's
Malaysian Palm website
yet...naughty naughty!
You can enlarge the pictures just by clicking on them as needed. Here are the basic specifications.
64MB non-volatile flash memory available for user storage
Intel® PXA270 312 MHz processor
320 x 320 pixel TFT touchscreen with support for over 65,000 colors
GSM/GPRS/EDGE-class 10 radio
Quad band (850/900/1800/1900 MHz)
Bluetooth® 1.2 wireless technology, Infrared (IR)
Speakerphone
Hands-free headset jack
Microphone mute option
TTY/TDD compatibility
Multi-party conference calling3
VGA
Automatic light balance
2x digital zoom
Integrated self-portrait mirror
Video capture with 352 x 288 pixel resolution
2.5mm headset jack is stereo headset compatible (requires a stereo headset adapter, sold separately, for use with standard stereo headphones)
Speaker
Polyphonic MIDI & WAV ringtones
External ringer on/off switch w/ vibrate mode
Full QWERTY key layout with backlighting
Integrated number dial pad
Support for MultiMediaCard, SD, and SD I/O cards
Removable, rechargeable lithium-ion battery
Talk time: up to 4 hours
Standby time: up to 300 hours
Battery
Multi-connector on device
USB sync cable
AC adapter
4.4" H x 2.3" W x 0.8" D
113mm H x 59mm W x 21mm D
Graphite, Crimson, Arctic, and Copper

Colors
* Only the graphite version seems to be available in Singapore and Malaysia.



My first impression about the Treo 680 was that it was a solidly built machine. It felt tough and did not flex or squeak when gripped firmly. Being a Treo 650 user, I really appreciated the lack of the antenna. Besides it's use for pushing buttons in the elevator I didn't like it poking around in my pants. Somehow having that extra inch made the Treo 650 seem big. Likewise removing the antenna and curving the base seems to make the Treo 680 much smaller and sleeker. Otherwise the general outlay is very similar to the Treo 65o which is optimised for one handed use.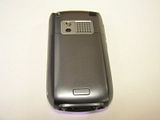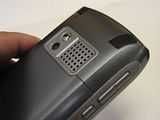 The back is pretty simple with the large speaker (facing the wrong direction unfortunately!) and the VGA camera lens plus mirror . There are rubber slots for the stylus and external antenna connector near the top. The plastic casing seems to be of good quality and feels good in the hand. It does not have that rubbery smooth feel of the Treo 750v but I actually prefer the Treo 680 as I am not scared of scratching off the rubbery coating.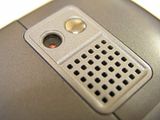 A word about the camera. It is basically the same VGA camera as the Treo 650, however it does give nice crisp pictures and is integrated well into the messaging systems. The refresh rate is good with minimal ghosting.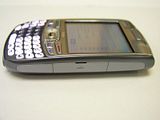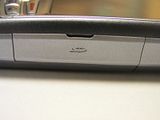 The left side houses the SD card slot which is a big plus as large capacity 1 gig to 2 gig cards are relatively cheap compared to the mini SD and micro SD cards. The plastic cover hinges do seem a bit flimsy so you must be careful when opening it. Still kudos to Palm for retaining the SD card slot, a definite plus point. SD's up to 4 Gigabytes are supported.

Strangely enough, WIFI SD cards, including Palm's Wifi SD are currently not supported in the treo 680. Too much Zen is maybe not too good, but if you need wifi, you may have to look for something else.




The right side has not changed much witht the up and down scroll buttons and a select button. I still would prefer a jog dial/scroll wheel, but this works fine too.




The top is dominated by a very handy switch to toggle sound or vibrate mode. The IR port is also located here, handy for those remote control programs.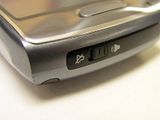 The sound off/on switch is amazingly handy for meetings, cinemas or anytime you don't want your ringtone to cause everyone to stare disapprovingly at you! Just do not forget to switch the sound on again later.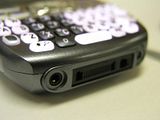 The bottom houses the hotsync and charging connector which is thankfully the same as the previous Treo 650, so you can reuse your old cables. It also has the 2.5mm audio jack and microphone. Gone is the soft reset key and so you have to remove the battery to perform a reset.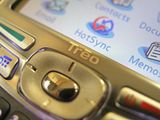 One of the Treo 680's main strength is it's one handed button layout for just about all your phone and pda needs. The buttons are well placed and can be accessed with your thumb easily. SMS is a pleasure to use with the Palm SMS threading app and it is also very snappy.




The keyboard has not changed much, which is a good thing as it is just as easy to use as the previous Treos. The slightly flatter keys are easy to press and give a good tactile feedback. Backlighting allows you to type in the dark and to sneakily send your sms or im messages in meetings. All in all, the keyboard is a joy to use, and is well integrated into the system.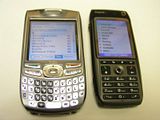 Just a comparison shot with my good ol' XDA 2s to show you that the Treo 680 is a lot smaller and more pocketable.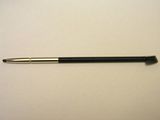 The stylus is now 2/3 plastic but it still quite usable. However with the keyboard, you hardly have to pull out the stylus.




This is one of the best reasons to upgrade from the Treo 650, which is the 66 mb of memory available to install your apps. Some applications cannot be installed into the SD card, especially medical programs like Epocrates which take up a lot of space. This is double the memory of the older Treo 650. Also the Dbcache has been increased to reduce the amout of spontaneous soft resets that plagued the Treo 650. The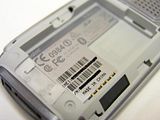 The battery life of the Treo 650 was phenomenal for a smartphone, lasting up to 3 days per charge. Sadly for the Treo 680, the battery life is it's Archilles Heel with a reduced capacity of 1200mAH and a lifespan of about only a day. So you will have to recharge the Treo 680 daily unless you get yourself an extended high capacity battery. Strangely enough the old Treo 650 battery will still fit, however the battery cover will not cover it. A dumb move by Palm, taking away one of the best points of the Treo series. At least they could have included a free 2nd battery to offset this problem.



Show me the colours! Strangely, only the graphite grey version of the Treo 650 is available in Asia. They must think we are pretty boring people who love bland colours! I hope they will bring in the whole range of colour soon!

I have focused more on the hardware features of the Treo 680. Software wise there isn't much change from the older Treo besides a few tweaks in the phone app and home screen. So in conclusion :



PROS

Good form factor, no more antenna
Excellent keyboard
Snappy and fast

Very good one handed use
Relatively cheap introduction price at RM1988 but strangely cheaper in the USA at USD399 (About RM1600)

More memory

SD card slot

CONS
Battery life about 1 day usage
VGA camera
No 3G, only EDGE
No Wifi and Wifi SD card not currently supported

Only 1 colour available in Asia, graphite grey.
A special note for doctors and medical professionals. Would I recommend it for most doctors? Yes indeed because as usual Palm excels at fast data retrieval and simplicity of use. Medical applications and references such as Skyscape and Epocrates run well on the Treo. The only drawback is that you have to charge the device daily.
Hope you find this short photoreview useful. A special thanks to YeapCH for the chance to be one of the first in Malaysia to review the Treo 650. Do post any comments or questions you may have and I will try to answer them. Cheers!
Review Unit Courtesy of