Doc's Dopod 838 Pro Photo Review
The
Dopod 838 Pro
was officially released last week in Malaysia and is the successor to the Dopod 838. Thanks to
Yeapch
for the review set which I have been playing with for a few days.
Here are the basic specifications from the
Dopodasia Website
.
Updated June 11th 2007. I have only recently bought one for myself and so I have added some new comments with my experience so far.
Basics




l OS: Microsoft Windows Mobile 5.0

l Frequency: GSM Quadband (850/900/1800/1900)+WCDMA Triband (850/1900/2100)

l Processor: Samsung 400MHz

l Memory: 128MB ROM, 64MB RAM (persistent storage)

l Size: 112.5 x 58 x 21.95 mm

l Weight: 176 grams w/battery

l Standby time: up to 220 hours

l Talk time: up to 5 hours

l Colour: Classic Black

Interface/messaging

l Messages: SMS; MMS (English; Chinese support via CE-Star)

l Email support: Outlook, multiple POP3, Hotmail, Gmail, Yahoo mail

l Push mail (in conjunction with Exchange Server 2003 SP2)

l Recording: Unlimited (up to memory capacity)

l Voice tags: Yes

l Hands free: Yes

Communications

l Mobile data connectivity: EDGE/GPRS/UMTS

l Bluetooth: Yes, v2.0

l USB: Yes (Sync and charge)

Screen

l Main: 2.8" 240x320 resolution (QVGA)

l Colors : 65536 colors TFT screen (effective)

Multimedia

l Supported ring tones: 40 chord polyphonic, MIDI/SP-MIDI/WMA/WMV/MP3/AMR/SMF

l JAVA: Yes

l Multimedia player: Windows Media Player 10 Mobile

l MP3 player with music auto-detect and music alarm function

Camera

l Primary: 2.0 megapixel CMOS w/flash and mirror

l Secondary: 0.1 megapixel CMOS for video calls and self-portraits

l Focus : Yes

l Video Recording: Yes

l Memory slot: MicroSD (hot-swappable)

Others

l Supported languages: English (Chinese via CE-Star download)=

l Built-in Office Mobile and ClearVue Document Viewer (PDF)

l Others: PenPower's WorldCard Mobile business card recognition software
The review will be mainly based on the photos and comparisons with my Dopod 838; please click on them for a bigger picture. Ok lets check out the Pro!

Here's the box, nothing to shout about. Dopod's new logo is pretty snazzy.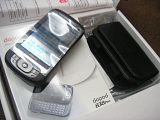 You get a nice case which looks a bit like leather, an extra stylus, sync cable, handsfree headphones and charger.






Front View





Out of the box, the 838 Pro is a real beauty. It's curved design and silver black theme makes the older 838 look dated.Looks wise, the Pro wins hands down.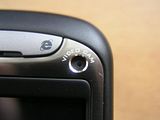 The Dopod 838 Pro's 3G capabilities are evident in the extrafront facing camera at the top right corner...



And the videoconferencing call button on the bottom left corner.





The front layout is compact and stylish. There is the video call button, 2 softkey buttons, windows start button, ok and phone buttons. The buttons in the middle can be hard to press if you have big fingers. The D-pad is slightly depressed but is quite usable.

Update : The windows and ok buttons are quite difficult to press. A bit too close to the other buttons.



From the back, the 838 Pro also maintains it's sleek curves.



The locking mechanism is spring loaded and removed by sliding a small button on the bottom. Inside there is a huge 1350Mhz battery and the usual simcard slots.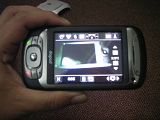 The camera module is compact and has a macro mode switch which is easily used. There is also the self portrait mirror and flashlight for night shots. The maximum resolution is 2mp. I feel that the camera responds faster and also takes video without skipping, probably due to the 400Mhz processor. The picture clarity and quality is very good, on par with the Dopod 818 which has one of the best pocket pc cameras. You can even use the macro mode to take pictures of barcodes or namecards for storage in a digital format.

Update : The 838 pro camera has a very high contrast setting, perhaps to better capture namecards and words. However the default setting for contrast is too high. Best to set it to a lower setting.



"Look I have a portable torch!"
But it's only good for night shots within 20cm. But it is useful as a spare torch if needed!

Update : VJcandela is a freeware app to allow you to toggle the light like a torch.



The main feature that sets apart the 838 series is the slide out keyboard. If you like using a keyboard, this is a must have. For me, I like to blog from my phone and typing out anything longer than a sentence is more comfortable and efficient on a keyboard. Searching for contacts and entering numbers is also easier.
The 838Pro's keyboard has the same texture as the 838 but it's number layout is better as it is in a keypad pattern. In addition, the 2 softkeys are placed lower down so it is easier to press.

Update : Sometimes the keyboard can be a bit laggy. To improve it >settings>buttons>up/down control> increase the delay and repeat rate



Both keyboards side by side.

The sliding mechanism is solid and there is a secure feeling when holding and typing on it.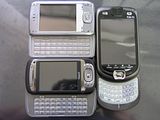 Another comparison picture between the Dopod 838, Dopod 838 Pro and the O2 XDA 2s.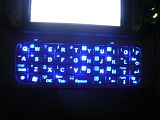 Dopod 838 Pro Backlight on the Left, Dopod 838 on the Right



The backlighting on the 838 Pro is blue which to me is a bit glaring. I prefered the 838's keyboard lighting which is a softer white and red.

Another interesting feature is that the Dopod Pro has a light sensor on the keyboard located at the top right hand corner that switches on the backlight if there is not enough light. Excellent idea.
Here are more comparison pictures of the Dopod 838 and 838 Pro.



Top view : The Pro has basically nothing on the top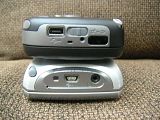 Bottom View: Here the Pro has a busy little bottom with the standard Mini USM port, soft reset button, infra red, microphone, stylus and battery latch.



Left View : The micro sd slot and jog wheel dominates. More on that later.



Right View : This is where the power button resides along with the camera and voice tag button.

OK..more to come in Part 2!

Review Unit Courtesy of
Doc's review continues his review in between consultations...



One of the best features I have been waiting for is a jog-dial, scroll wheel, whatever you want to call it. The 838 Pro finally has it conveniently located where your thumb would rest. You can scroll up and down in any menu and also select it by pressing in the wheel. This is very useful in browsing web pages, contacts and ebooks.



The Dopod 838 has a volume slider that can also be used to scroll up and down by using a registry hack, but somehow a scrollwheel feels much better.



Ah memory cards...why do they always change them? The 838 Pro uses the new Micro SD format which is half the size of the mini SD. The maximum size currentlyis 2 gb for the Micro SD but it is relatively expensive. As you can see, the memory cards are getting smaller and easier to lose. The micro SD is super tiny and looks flimsy to me.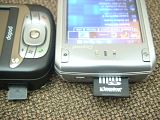 The Micro SD slot is found on the left lower corner as oposed to the top in the Dopod 838.





One thing that thankfully has not changed is the mini USB connector that is used for charging and synchronising data with your computer. I find this very useful as 3rd party mini USB cables are very easy to find. That means you can readily charge your Dopod from your computer USB slot. The infrared port has been moved down to the bottom along with the soft reset hole.




More comparison pictures of the Dopod 838 Pro, XDA 2s and Dopod 838.



Both dopods are about the same thickness because of the slide out keyboard. The Pro is actually slightly longer but thinner.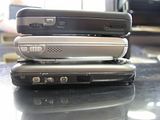 Right Side View



Top View





Left side view

Regarding the black casing of the Dopod 838 Pro, it seems to be the same black painted plastic as the Dopod 818. This was previously prone to scratches especially along the sides and corners. I was hoping for better quality for example in the original O2 mini which had a meral alminium case. However it does make the Pro lighter and more pocketable. Just do not keep it together with your keys in your pocket.



Pros
Sleek black look, a real beauty
3g ,Edge, Wifi, Bluetooth

Sliding keyboard
2MP camera with Macro Mode with quite good picture quality

Fast 400Mhz processor

Cons

Expensive RM3288 ( Some bundle it with a free 1 gb Micro SD)
Black paint may be easily scratched
I will post some comparison shots between both cameras soon. I thought I had better post this part of the review first and fill in more details later. Feel free to ask any questions and I will try to answer them.
Conclusion


So would I buy it? Yes if money is not a factor, or if you need 3G. Since I already have my Dopod 838 I am hanging onto it for a while. I think it's a about the best 3G Pocket Pc phone with keyboard at the moment...and it does it with style.
Review Unit Courtesy of